Although the Notorious B.I.G. wasn't necessarily referring to office culture when he penned the immortal lines "Birthdays was the worst days," he very well could have been.
Think about it – the grocery store sheet cake, the lifeless rendition of "Happy Birthday to You," the elastic party hat string slicing into your windpipe like piano wire – few things in life are as depressing as a poorly executed office birthday party.
Get Your Free Guide to Celebrating Employee Birthdays
On top of that, birthdays can be a lot of pressure. These days it seems like every individual team member feels entitled to a personalized celebration. As an office manager, culture leader, or HR pro, you may feel obligated to deliver.
But as your company grows, this becomes harder and harder. Beyond twenty or so employees, it really isn't feasible.
For these reasons, it might be tempting to throw your hands up and say "forget it," letting birthday celebrations fall by the wayside. But it doesn't have to be this way.
When it comes to office birthdays, a little goes a long way. Office birthdays can be both a breeze and an opportunity to add value to your company. There are even automated employee birthday programs that make it easier to manage the logistics involved so that no one at your company ever feels forgotten – We recommend checking out Bonusly which offers automated welcome, anniversary, and birthday bonuses.
Whether you are looking for some birthday surprise ideas for the boss or some coworker birthday ideas that everyone will enjoy – you'll be sure to find here!
Before we dive into our best office birthday ideas, let's quickly explore why all this birthday stuff matters in the first place.
Office birthday celebrations are simply a chance to show you've been paying attention. A personalized birthday wish or gift that speaks to your employees hobby or passion demonstrates that you've taken the time to get to know them on a personal level. This goes a long way towards creating an emotional bond between company and team.
And really, it doesn't take a lot to make your teammates feel special, cared for, and appreciated. SnackNation Vibe Manager extraordinaire Liza Goldberg elaborates:
"From my experience, what I've found is that really all team members want for their birthday is just to see that their company remembers their birthday and cares enough to acknowledge them on it. Even the smallest things planned for them will go a long way. That's why we've set up a birthday milestone program to celebrate their special day and unbox some appreciation."
Here are our easy-as-pie (or cake) tips to make office birthdays a part of a winning company culture.
List Of Office Birthday Ideas For Work
  1 

 Let Them Pick What They Want

If you're stuck, let employees pick their own birthday gift by awarding them redeemable points. Programs like Bonusly make it incredibly easy to distribute points, and employees have the freedom to browse through thousands of rewards and pick something they actually want. You can even configure the program to automatically distribute points on an employee's birthday to ensure you never miss a milestone.
Pro-tip: Letting employees choose their own gift is an awesome option because it ensures the recipient is getting something they actually want — but it also has the potential to feel impersonal. To make sure the gesture is meaningful, be sure to include a personal note detailing all the things you appreciate about the employee.
Why this is a fun work birthday idea: Let's face it… You don't actually know what your employee wants for their birthday? That's okay! Letting your employee pick what they want gives them the freedom to select something they will actually use. There's truly something for everyone with options ranging from wishlist items, charitable donations, exclusive company rewards, gifts the whole family can enjoy, and more!
Here are some of SnackNation's top picks:
Looking for more ideas? For additional ways to celebrate your colleague's special day, request a FREE copy of Bonusly's guide to Celebrating Employee Birthdays in the Workplace! This downloadable is chock full of easy-to-follow games and activities that are perfect for the entire office!
  2 

 Shippable Experiences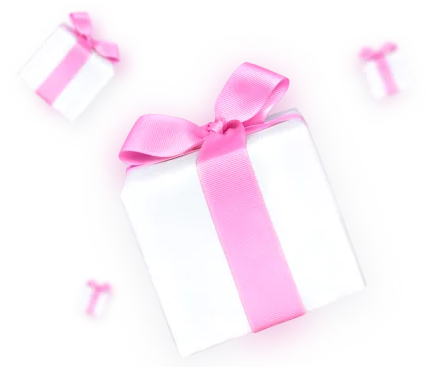 Shippable experiences are experiences that can be sent to your remote workers and friends all over the world! Instead of the giftee needing to go to a winery or a chocolatier, they can enjoy the experiences right from the comfort of their homes.
Why this is a fun work birthday idea: Shippable experiences make fantastic virtual birthday party ideas because they enable your team to get on a Zoom call and celebrate as if they're in Paris or wherever the theme of the experience happens to take them virtually! In terms of connectivity and rapport, few work birthday gifts do a better job of rallying the team than shippable experiences.
Here are some of SnackNation's top picks:
Pro-tip: Don't get caught in the trap of having to purchase one-off gifts for each employee's birthday. Set up an employee birthday program through Caroo, where you can input all your employee birthdays and ship gifts out all in one easy (and free!) to use platform.
  3 

 Office Birthday Game Show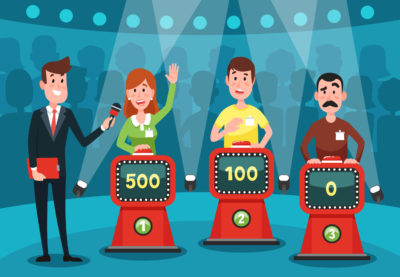 Office birthday game shows gamify your employees' or coworkers' birthdays. Now, everyone can be involved, compete, laugh, and enjoy this special day.
Why this is a fun work birthday idea: An office birthday party game show emphasizes having fun, which is what a birthday celebration is all about. Take it as an opportunity to incorporate team building activities as well!
Here are some of SnackNation's top picks:
  4 

 Downloadable Birthday Games For Work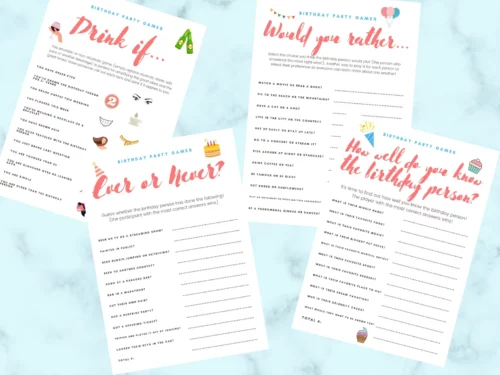 Downloadable birthday games and activities for work can be used as icebreakers, drinking games, or as a way to elevate the fun and positive energy at the office party. What's even better is when all of these birthday games and activities have been pulled together in a greatest hits style collection.
Why this is a fun work birthday idea: The Birthday Bundle and other PDFs can be downloaded and printed instantly – and as many times as you want! On top of that, it features Would You Rather Questions, Ever or Never, Drink If…, and How Well Do You Know The Birthday Person?
Here are some of SnackNation's top picks:
  5 

 Cooking Party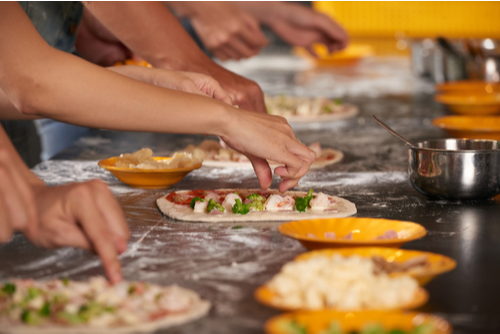 Add a little of this, a little of that, and a pinch of outrageously fun times! What do you get? A Cooking party. This office birthday idea is a feast for the senses!
Why this is a fun work birthday idea: On top of getting to learn something new, each participant will of course have the pleasure of devouring their own creation. Besides that, a cooking party provides an opportunity to put your coworker or employee right in their element if you know they like stirring it up in the kitchen! Cooking parties are even better when combined with a shippable experience that delivers all of the necessary ingredients.
Here are SnackNation's top picks:
  6 

 Happy Hour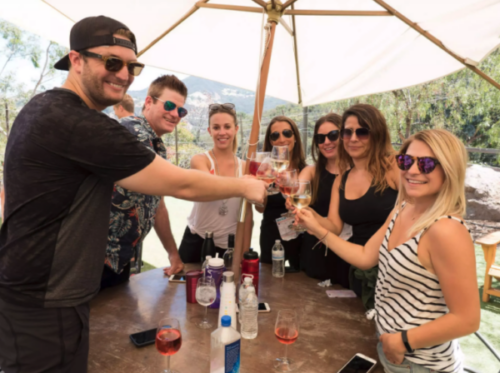 Happy hour and birthdays go together like peas and rice — or olives and martinis. Adding libations and spirits to a birthday will only boost the cheer in the air.
Why this is a fun work birthday idea: Work can be pretty serious business, but work birthdays don't have to be. Turn the birthday into a cocktail hour or a social mixer with amazing drinks and equally awesome vibes!
Here are SnackNation's top picks:
  7 

 Social Recognition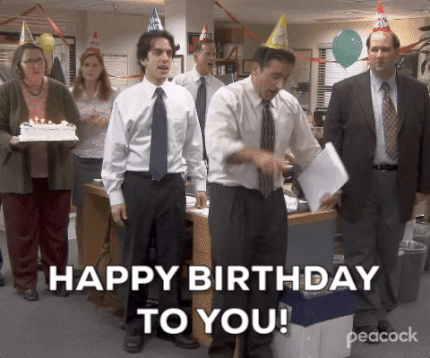 Social recognition is a must-include for birthdays. On the birthday of your friend, coworker, or employee, make sure that everyone in the company or group knows about their special day. Ideally, they can each share a memory they have with them or write a few kind words.
Why this is a fun work birthday idea: Humans are relational. Put another way, we enjoy being seen, recognized, and cared about by one another — to varying degrees.
Here are SnackNation's top picks:
  8 

 Escape Room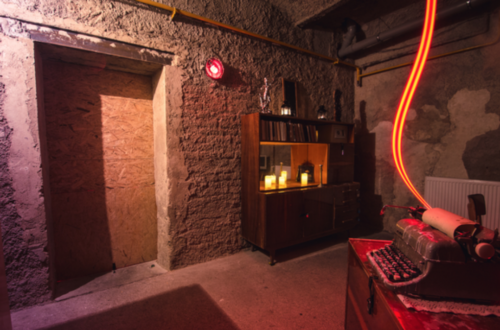 Since birthdays only happen once per year, they would go pretty well with anything that feels timely and urgent — and what in the world is more urgent than an escape room? Whether as a virtual team building activity or at a local escape room, it is sure to be an exhilarating experience that will push you and your coworkers to work together to solve the puzzles, riddles, and tasks in your escape room.
Why this is a fun work birthday idea: This team building idea is perfect for work birthday parties because it gives everyone something to do and bond over! Plus, there are loads of companies and platforms that help facilitate escape rooms. Speaking of…
Here are SnackNation's top picks:
  9 

 Scavenger Hunt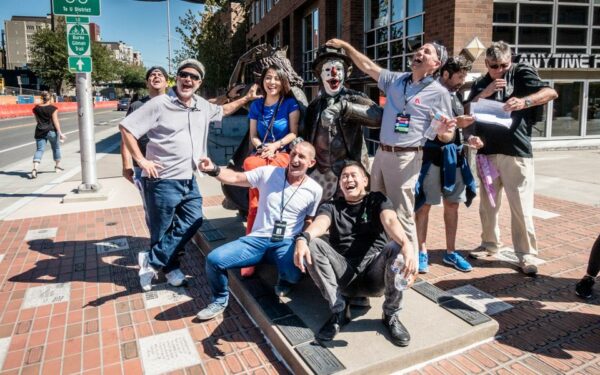 Like escape rooms, scavenger hunts are another incredible way to gamify an office party. While the honors go to the birthday person, games like this get everyone amped. Race around your office, neighborhood, or city to see which team will take home the first place prize!
Why this is a fun work birthday idea: Scavenger hunts are perfect for boosting engagement in the workplace and you can customize the hunt based on the birthday person's hobbies and interests!
Here are SnackNation's top picks:
  10 

 Office Lunch Party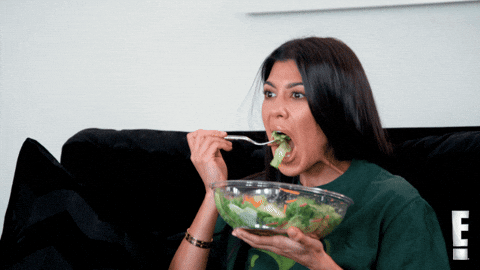 Throwing a birthday lunch is one of the simplest office events on this list. The best part? Lunch at the office works so well because it can be done in the middle of the workweek and is a great idea to get employee participation even if its a busy time of the year for your company. After all, everyone has to eat — so why not celebrate their birthday with some delicious grub and some time to chat with the people you spend so much time with.
Why this is a fun work birthday idea: Lunch is also great because everyone has to eat and you can do it in the natural course of the day, so the turnout should be at an all-time high as far as company events go.
Here are SnackNation's top picks:
  Bonus 

 Office Trivia Night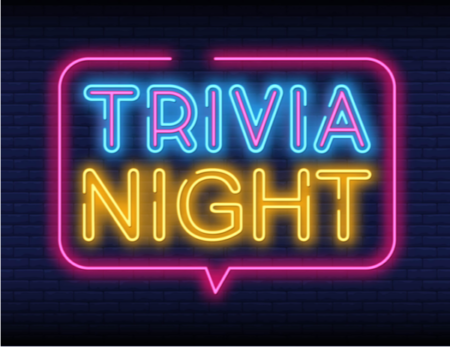 First question: Who doesn't love trivia? The correct answer is…nobody doesn't love trivia! Trivia is always a fantastic time. You could even base the questions around the birthday person to test how well they know them.
Why this is a fun work birthday idea: Trivia is a brilliant office birthday idea because it gets the competitive juices flowing and you can easily give out swag to the winning team!
Here are SnackNation's top picks:
Unique Office Birthday Ideas
  11 

 Murder Mystery Party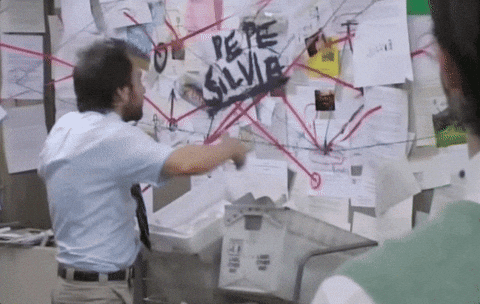 Have you ever played the classic board game Clue? To this day Clue introduced most of us to the idea of Murder Mystery games. Well, the tradition can continue in the workplace!
Why this is a fun work birthday idea: With serial killer shows trending on Netflix, it's hard to deny our fascination with the macabre. Put your office sleuths to work with a Murder Mystery and let them explore this curiosity even further!
Here are SnackNation's top picks:
  12 

 Office Gift Exchange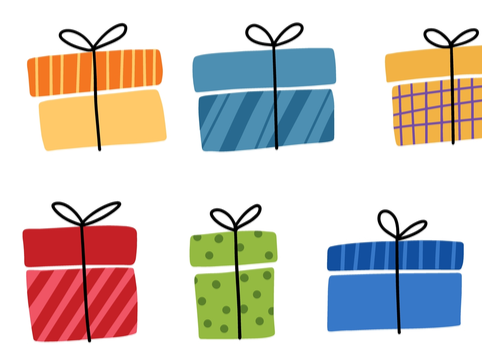 Office gifts are unique trinkets and items that will improve the aesthetic of your coworker's or employee's workspace. Whether their workspace is at the office or they're working from home, they'll appreciate the improvements.
Why this is a fun work birthday idea: Office gifts can vastly boost the ambiance of a home office or cubicle, which will also boost productivity.
Here are SnackNation's top picks:
  13 

 Take A Field Trip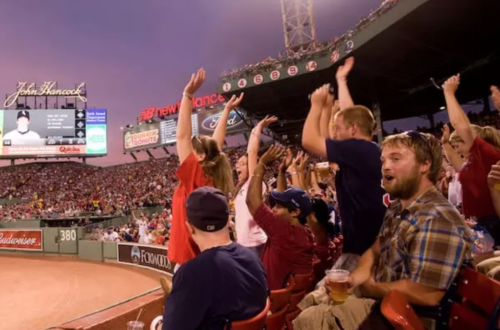 A field trip is a throwback to simpler times. Let the collective group play hooky from work for the day to go on a fun activity. Can you say, Bueller? Bueller?
Why this is a fun work birthday party idea: A field trip is the ultimate work birthday gift idea because it gives them the gift of time, memory, and experience. Feel free to ask your employee where they would like to go or survey the office!
Here are SnackNation's top picks:
  14 

 Coworker Birthday Gift Ideas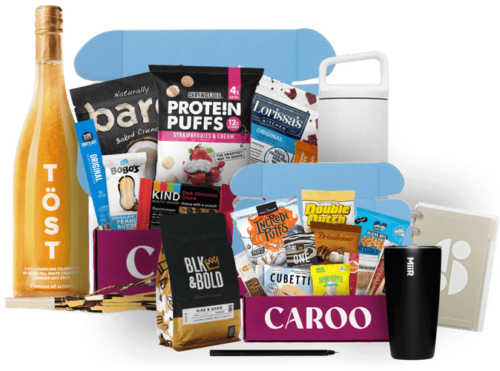 When you think of getting a gift for a coworker, of course, the first thing to pop up in your head is some blend of what would be fun yet professional. Thankfully, we've got you covered.
Why this is a fun work birthday party idea: Coworker birthday gift ideas can range from white elephant gifts to motivational gifts for employees. The key here is that the idea is thoughtful and reflects who they are as a person or hints at a happy memory you've shared with the giftee.
Here are SnackNation's top picks:
  Bonus 

 Decorate Their Desk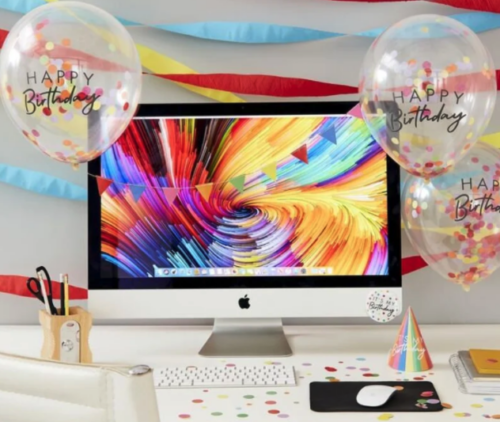 Decorating your desk is a sacred tradition of the workplace. While everyone sort of acknowledges in an unspoken capacity that their time is not entirely theirs during their time on the clock, decorating their workspace, retrieves a sense of autonomy.
Why this is a fun work birthday party idea: Adding swag and a touch of individualism goes a long way in the workplace. Decorating their desk can be a huge morale booster.
Here are SnackNation's top picks:
Office Birthday Party Themes
1) Disco
Feeling a little Saturday Night Fever? Turn on the Bee Gees, some Earth, Wind, and Fire, and start grooving for this office birthday party theme. Don't forget the disco ball and a couple of lava lamps!
2) Roaring 20s
Make Jay Gatsby jealous with an office party Daisy wouldn't be able to resist. Swing dancing? Check. Flappers? Check. Satisfied employees? Check!
3) Costume Party
Wouldn't it be nice if Halloween was every other day? Well, you don't have to wait for October to come around if you throw regular costume parties.
4) Surprise Party
One thing work is infamous for is mundane, routine schedules. Surprise parties inject the workplace with life, energy, and a sense that the unexpected can happen. A great way to make your workplace happier while you celebrate another trip around the sun for your coworker.
5) "This is Not a Hat" Party
For a "This is Not a Hat" party, wear your DIY creation atop your head. The only rule — it can't be a real hat. Maybe a cat? Maybe a bat? Maybe even a mat? Again, it just can't be a hat.
6) Beach Party
A beach party is a laid-back, relaxing office birthday party theme with major vacation vibes! To make it a little more authentic, consider throwing the office party outside in the sunshine.
Tips For Hosting A Successful Office Birthday

1) Pick a day and time when most coworkers can attend
Attendance is an important part of your office birthday party. At the end of the day, memories are only as good as the people we share them with.
2) Be inclusive and don't leave anyone out
The more, the merrier when it comes to office dynamics. Everyone deserves a chance to take a break from work.
3) Send a calendar invite so people don't forget
Without a calendar invite, it's pretty easy to let things slip. This ensures people can clear their schedules, save the date, and stay motivated to show up.
4) Don't fret if some people can't attend
While it's great if every team member can be there, the reality is that many won't be able to make it.
5) Choose a fun activity for the group
Birthdays are meant to be fun, so be sure to choose a fun office activity that excites and engages your coworkers or employees. Choose a game or experience that can include everyone to maximize participation and support a positive work environment.
6) Remember you're still in a professional setting
While The Wolf of Wall Street is a great movie, don't try to copy the Belfort way of running a company. People should have fun at your office birthday party while still realizing that it still is at work and not an excuse to run wild.
7) Add personalization whenever possible
The more personalized and customized the office party and office party favors are, the better. Ideally, the birthday man, woman, or whatever they identify as, is able to tell the party is really designed just for them.
Birthdays & Your Culture Of Recognition
A more traditional approach to workplace culture might question the need for birthday celebrations in the office at all. This is usually the point of view of team members who say things like, "We're all adults here," or "This isn't Kindergarten" when they put up a stink about having to watch someone blow out candles.
Fair enough. But there's a strong why behind celebrating birthdays, and it's all about creating a culture of recognition that rewards employees.
Multiple studies have shown a strong link between recognition and performance. A report by HR firm Bersin & Associates suggests that companies that integrate strong employee recognition practices are on average 12 times more likely than their peers to generate strong business results. This means higher profitability and better market positions.
Recognition doesn't just mean acknowledging a job well done (although that's certainly important), but recognizing and appreciating your employees as people.
Today's employees (especially Millennial employees) expect to be able to be their true selves at work. Because of this, more and more companies are ditching the old work-life balance paradigm for the more accurate work-life integration model, which acknowledges that work and life are inseparable. Celebrating staff birthdays helps tell your employees that you get that they are living life everyday inside of your office – we recommend checking out Bonusly which offers automated welcome, anniversary, and birthday bonuses.
People Also Ask These Questions About Office Birthday Ideas
Q: How do you celebrate office birthdays virtually?
A: You can celebrate office birthdays virtually by using a video conference calling platform and/or sending out shippable experiences, among other ideas.
Q: What can I do for my coworker's birthday?
A: You can do a variety of things for your coworker's birthday. The critical thing to consider is that the activity you choose is inclusive, interactive, and facilitates social bonding among team members. Of course, the customary birthday card, birthday cake, cupcakes, ice cream bars, gift baskets, birthday breakfast, or anything along those lines is a nice touch.
Q: How do you celebrate employee birthdays if they are remote or work from home?
A: You can celebrate employee birthdays by throwing an event that connects coworkers through a shared virtual activity. Whether it is some type of online group game, team activity, or a shippable experience — there are a ton of ways to get employees together who work on a distributed team. You can also gift them an experience in their home town that the employee can try with their friends or family on their day off. This kind of birthday present gives them an opportunity to try something close to home and lets your employee know that you care.
Q: What are some fun ways to celebrate an employee's birthday?
A: Some fun ways to celebrate an employee's birthday are by including office party games, activities, unique gifts, and birthday treats.
Q: Why is celebrating office birthdays important?
A: Celebrating office birthdays is important because they improve retention, engagement, chemistry, and productivity, similar to other employee appreciation and recognition forms. Staff birthdays are crucial to always remember.