Slowly but surely, we find the pandemic cloud clearing and there's no denying that the world is different.
From the way we get our groceries, to the ways we work, the landscape has definitely changed.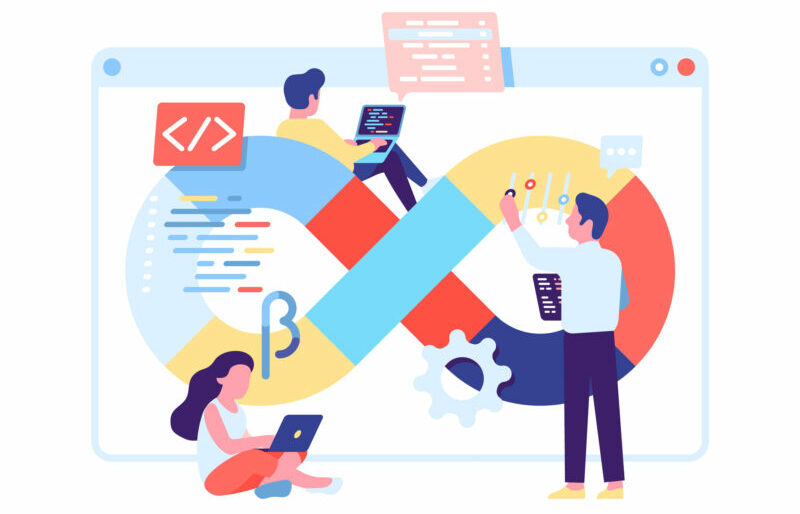 Whether your employees work from home, commute to the office, or are balancing a hybrid variation, chances are, you've all had to adjust a bit.
Sadly, those adjustments still may not be enough for your employees to truly be as productive and efficient as they could be. Sure, the work is getting done but is "done" the end goal?
Don't get us wrong, "done" is great! "Done" is what keeps the money coming in and the business growing.
But what if there was something you could implement that could actually make their jobs easier and boost productivity?
"The productivity of the employees who do many kinds of jobs has increased; for others it has declined. Many forms of virtual collaboration are working well; others are not. Some people are getting mentorship and participating in casual, unplanned, and important conversations with colleagues; others are missing out."
If you were to do an inventory of how many systems are being used within your organization to accomplish similar tasks, we're betting you'd be shocked.
Not only are your employees losing valuable time each day, bouncing back and forth between multiple platforms, but… brace yourself… you're probably paying for most of those subscriptions!
Let that sink in a minute. 
What is employee productivity software?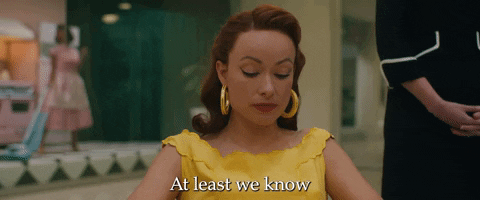 An employee productivity software tool is a centralized platform, used to simplify and streamline various functions performed throughout the workday. Their main purpose is to improve productivity by collectively making the user's day-to-day communications, scheduling, and collaborations easier.
If you're now ready to improve your employees' productivity by managing fewer programs and platforms, AND you're ready to save a bundle of money by canceling all the redundant subscriptions currently in place, you've definitely landed in the right place.
We're here to quiet the chaos with ten of the best employee productivity software platforms for your business because now is definitely the time to "work smarter, not harder."
List of employee productivity tools for work teams
Best employee productivity software for: Workforce Management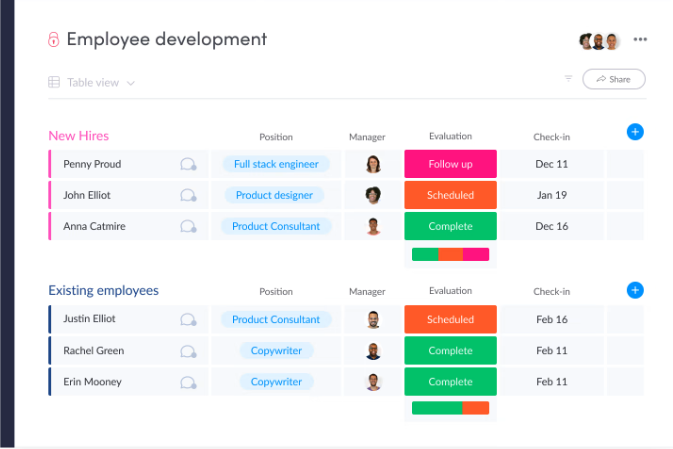 monday.com is a fully customizable operating system, equipped to manage all aspects of your organization. Streamlining your workflows, improving communication and collaboration, and clearly prioritizing tasks and projects are just a few perks you'll get with this software. Your employees will have a ton of tools available at their fingertips, and all these features lead to increased productivity for your workforce.
Standout Features:
1) Gantt charts
Project management's BFF. Monitor milestones, plan actionable tasks, and assess risks with full transparency and visibility for the whole team.
2) Workdocs
Encourage real-time collaboration with live document editing. With the whole team sharing simultaneously, there's no miscommunication or delay in the exchange of information.
3) Automation
Drastically reduce task redundancy and processing times by automating so many of your employees' everyday functions.
Notable companies that use monday.com: 
Why we love this employee productivity tool: Manage all your business needs from one platform. Everything from your HR records and sales, to projects and operations, all in one OS.
Free Trial? Yes! Get started here for FREE!
Best employee productivity software for: Employee Experience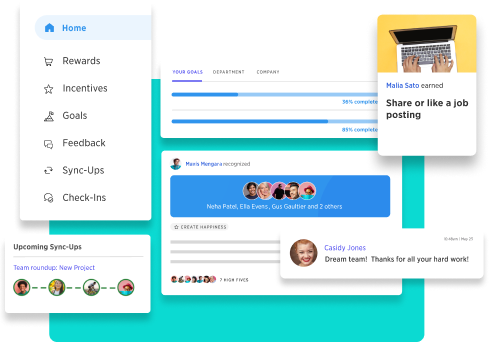 WorkTango delivers a holistic approach to the employee experience strategy for your business. They're focused on making sure your employees are well-equipped for their roles so each one can shine. Surveys and actionable feedback help make up the full-circle experience, so your employees and your business are aligned.
Standout Features:
1) Recognition Program
Design your rewards program specifically to the vibe and vision of your business. With WorkTango, you can literally have "recognition any way you want it."
2) Strategic Goal-Setting
When goal-setting is done in tandem with transparent feedback, the path to success becomes a lot clearer. It's not effective to wait for an annual performance review to find out whether they're on track to meet the goals they set the year before. Frequent check-ins and evaluations, plus open communication keep everyone moving in the right direction.
3) Effective Surveys
To collect the most authentic feedback from your employees, you can fully customize your surveys or opt for WorkTango's research-backed assessments. Either way, you'll have the ability to gain better insight into your employees' engagement levels, their strengths, as well as their pain points.
Notable companies that use WorkTango: 
Habitat For Humanity
DoorDash
Goodwill
Why we love this employee productivity tool: WorkTango takes a people-first approach to designing your employee experience because your people are ultimately what makes the company so successful. When your employees thrive, so does the organization.
Free Trial? No, but you can schedule a free demo to get more information.
Best employee productivity software for: Employee Lifecycle Management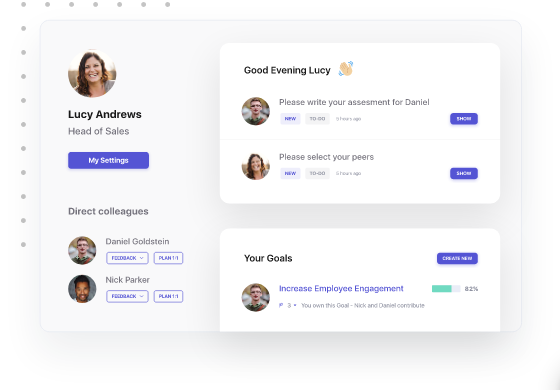 Leapsome is a "people enablement" software, built to engage and empower every level of your workforce. Your employees' experience as they advance their careers with your company isn't just about making them happy. Giving them the resources they need to be effective, increases productivity and motivates them to focus on their professional goals.
Standout Features:
1) Skill Matrix
Identifying the strengths of your team members allows you to pinpoint where further development is needed and determine how to best utilize those skills within the organization. It also gives employees the opportunity to advance their training in areas they may be lacking, in order to prepare for their next-level position with your company.
2) Awesome Analytics
Surveys and feedback only go so far. Getting to the core of your people and their goals with detailed reports helps you to better understand how to help them succeed. Science-based analytics drive actionable strategies for employees and your organization, so that everyone's time and talents are maximized.
3) Goal-Setting
Keeping your company OKRs (objectives and key results) at the forefront can be simple and efficient. Leapsome offers a space to collaborate and maintain alignment across your organization so that everyone is working towards the same bigger picture. #SameTeam
Notable companies that use Leapsome:
Why we love this employee productivity tool: Leapsome provides simplicity, transparency, and accountability to your employees, and aligns their career objectives with your company's vision.
Free Trial? Yes, start your free 14-day trial here.
Best employee productivity software for: Employee Engagement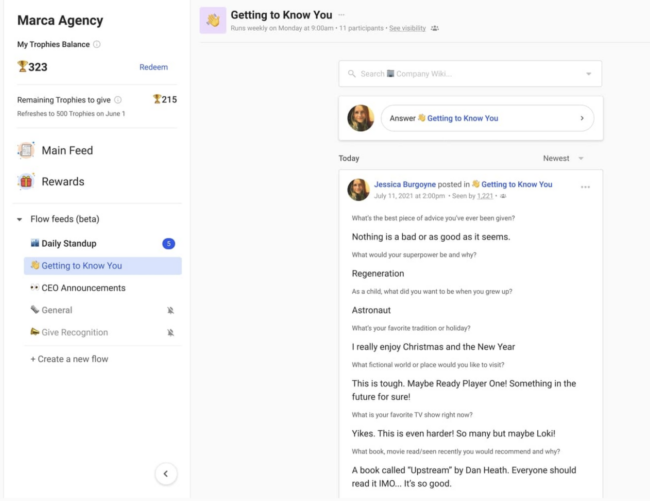 Assembly helps you to better understand your employees, both personally and professionally. Learning what makes them tick, with development plans and insights, makes it easy to engage them in future-thinking visions.
Standout Features:
1) Workflow Templates
Organizing your workflows is a breeze, with over 40 customizable templates to choose from. Streamlining your workflows helps to improve efficiency, so you'll have more time to focus on the tasks that really need your attention.
2) Digital Security
Safeguarding your clients', customers', and company's data is top priority with Assembly's Digital HQ. They digitally defend your organization for you. Features like data encryption, credit card protection, security audits, and monitoring ensure customer and employee privacy, and reduce the time your HR and IT professionals need to invest in monitoring activities.
3) Recognition and Rewards
Monitor growth and celebrate your employees' achievements with ease. Nominate team members for recognition from the entire group and be sure they're rewarded for their hard work.
Notable companies that use Assembly: 
StubHub
Quest Nutrition
FTD
Why we love this employee productivity tool: Engagement and rewards are two main ingredients in encouraging a productive and effective workforce. Highlighting your top performers is an opportunity to show them just how valuable they are to your organization.
Free Trial? Yep, and there's "no credit card (or superpowers) required." Get started here!
Best employee productivity software for: Time Tracking/Management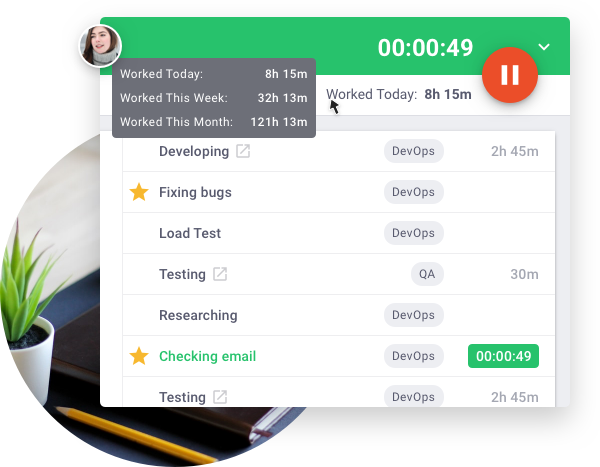 Time Doctor is a time finder! Being able to productively work from anywhere has never been more relevant, but "work time" doesn't necessarily mean it's productive time. With this automatic time tracking tool, you can identify the gaps and underutilized time in your employees' days, and cut out the noise that blocks their flow.
Standout Features:
1) Distraction Alerts
No matter where they're working, distractions are all around. Notifications help employees stay focused and bring them back to the task at hand when their minds start to wander or social media sucks them into a rabbit hole of reels.
2) Activity Monitoring
Monitoring employee activity regarding website traffic and app usage shows you where you need to streamline your processes. Productivity levels are directly threatened by the amount of time spent reviewing non-value-added platforms, distracting ads, pop-ups, and websites. Monitoring user activity shows you where to focus your attention to impact overall productivity.
3) Progress Reports
Real-time productivity reports allow you to monitor the progress of all your open projects at a glance. Productivity metrics clearly show which projects are requiring more time investment so you can maintain a healthy workload balance among your teams.
Notable companies that use TimeDoctor: 
Keller Williams Realty
Boost Media
Firehouse Subs
Why we love this employee productivity tool: 9-5 is no longer a "standard work day" for many. TimeDoctor allows you and your employees to work the way that's best for you and be as productive as possible, whatever your work hours.
Free Trial? Yes, try it free for 14 days, no credit card is required.
Best employee productivity software for: Employee Learning and Development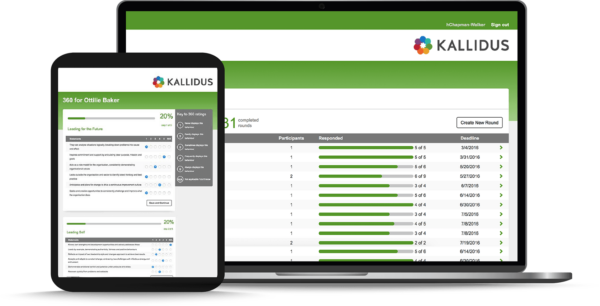 Kallidus is a Learning Management System (LMS) that's laser-focused on setting people up for success. Employee development starts with onboarding and compliance training, and continues throughout your employees' career advancements. It's everything you need to support, educate, and motivate your productive teams.
Standout Features:
1) Bespoke eLearning
Make your education as relative as possible. Work with talented learning designers to create eLearning courses, customized to your industry and workforce. Jazz them up with games, 2D and 3D animations, and virtual reality training scenarios.
2) On and Offboarding
From day one, Kallidus has systems in place to deliver a top-notch employee experience. They offer specialized training and eLearning for new hires, automated HR workflows, and detailed reports so you know how each is performing. As they move on to other opportunities, their exit is the concluding chapter in their experience with your organization, so send them off with a great final impression.
3) The Academy
A learning platform that's chocked full of step-by-step videos and eLearning modules, live events, and workshops. Whether it's compliance training or upskilling current employees, this is the place to find it. Oh! And by the way, did we mention it's free forever?
Notable companies that use Kallidus: 
Why we love this employee productivity tool: Being well-trained is a key component to being productive. Kallidus' people-first platform has all the ingredients to make your employees successful.
Free Trial? No, but definitely check out their free demo to see what they can do for your company.
Best employee productivity software for: Human Resource Management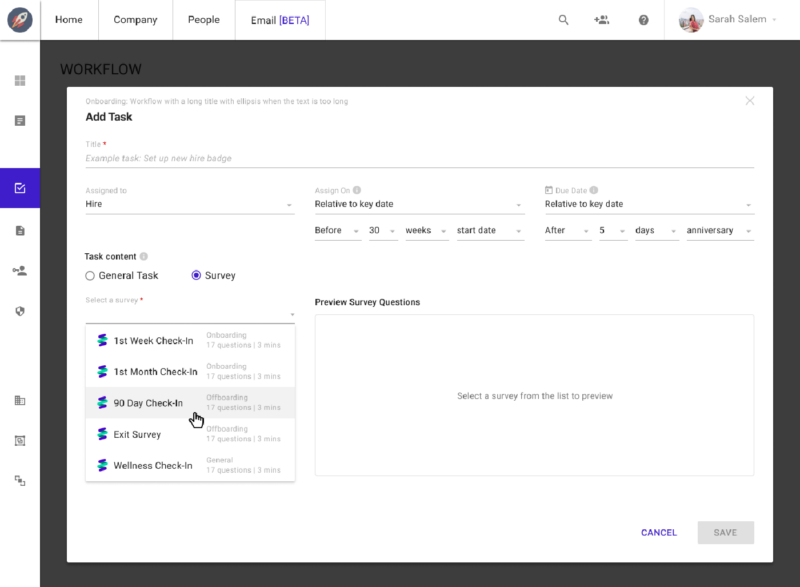 Sapling is a full-spectrum people management platform that covers the entire employee lifecycle with your organization. All aspects of onboarding, developing, and retaining employees can be managed easily and efficiently when you have the right software and support.
Standout Features:
1) Mobile HR
Working remotely requires a balance. You want your employees to remain productive while not necessarily having to be in front of their computers all day or turning in bothersome timesheets. Sapling's mobile features allow employees to manage their time while on the go with ease.
2) Performance Management System
People management isn't an annual event. It's a culmination of daily tasks and activities that can become overwhelming if not prioritized and managed properly. Being able to have real-time discussions with your employees about their performance, development, and overall satisfaction with their job removes all the static.
3) Intranet
Staying connected can be challenging, especially if your teams are working outside the office. Sapling's intranet makes all your employees' HR info simple to find, with their benefits, resources, and knowledge needs, all in one centralized hub.
Notable companies that use Sapling: 
Aston Martin
Nestle
Warby Parker
Why we love this employee productivity tool: Having a people-first HR management platform really keeps the focus on your employees' success. Sapling improves morale and makes "human resources" feel human again.
Free Trial? No, but they do have super affordable plans for teams of any size.
Best employee productivity software for: Communication and Collaboration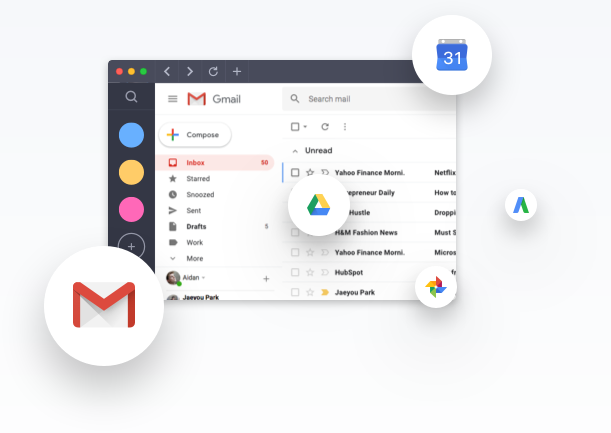 Shift is a click-once software that collects all your employees' communication platforms and stores them in one place for easy access. Combining all their email accounts and communication apps in a centralized hub eliminates time wasted hopping around from one to another.
Standout Features:
1) Chrome Extensions
Extensions just make life easier but often don't integrate with company operating systems. With Shift, your employees don't have to sacrifice their favorite productivity-boosting extensions at work.
2) Unified Search
Instead of checking each email account or chat platform for that one specific message you need to reference, Unified Search dips into all of them at once. Locate important documents, emails, and attachments quickly and easily with a single search.
3) Focused Web Tabs
Clicking back and forth from one account to another is a waste of your employees' valuable time. Focused Web Tabs keeps all their online tabs organized and easily accessible from the same dashboard.
Notable companies that use Shift: 
Why we love this employee productivity tool: Your entire organization can communicate with colleagues, clients, and customers, through any source they choose, right from their Shift dashboard.
Free Trial? Yes, download yours today and shift the way your employees communicate.
Best employee productivity software for: Task Management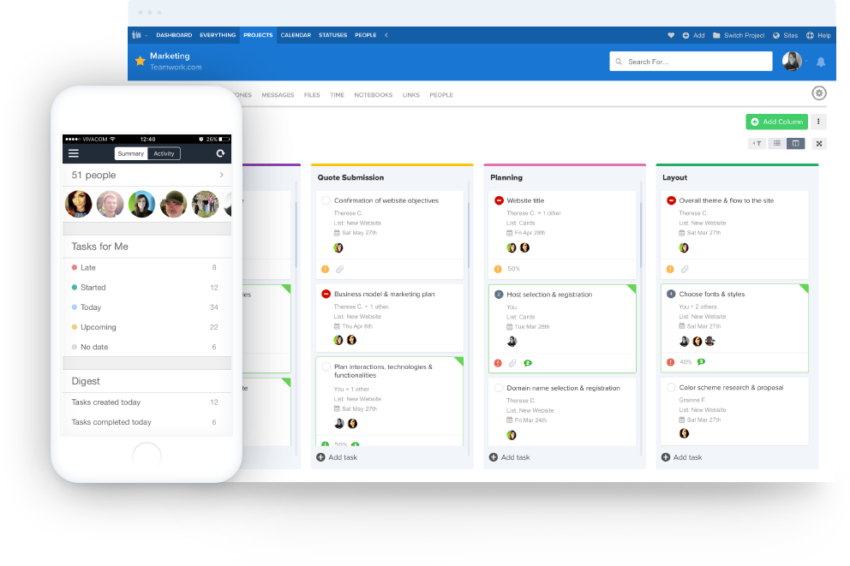 Teamwork is built to handle all your task management needs. You can monitor the status of all your projects and their ongoing progress, at a glance. It'll blow your mind how they've simplified keeping up with all aspects of your projects, and manage to keep your whole team in the know at all times.
Standout Features:
1) Management Templates
No need to reinvent the wheel over and over, with templates available for managing all your projects, tasks, planning, and more, each ready in just a few mouse clicks.
2) Mobile App
Staying productive while on the move relies on versatility. The whole world is mobile now. TeamWork is keeping up with those evolving needs to make sure that staying productive is just as mobile as we are.
3) Kanban Board
Kanban Boards provide real-time project tracking and task management so that all the players on the field know the next move. Particularly great for keeping remote teams on top of their priorities.
Notable companies that use Teamwork: 
Cox Media Group
Northwestern Mutual
Isobar
Why we love this employee productivity tool: TeamWork is a user-friendly software that offers simplified solutions to some of your most complex roadblocks.
Free Trial? Yes, get your sneak peek here.
Best employee productivity software for: Workforce Collaboration

Notion puts all your employees in the same room, even if you're managing a remote workforce. Their collaborative and customizable platform makes it easy for all your team members to stay on top of their tasks and projects, and offers an amazing creative space for all their inspirational needs.
Standout Features:
1) Web Clipper
For easy access to their important internet sites, Web Clipper snaps and stores all your employees' pages and organizes them based on their needs. Even on the go, they can grab and share their clipped pages and screenshots from their mobile devices without jumping through any extra hoops.
2) Workflow Dashboard
Creating cohesive and effective workflows is a simple drag-and-drop with Notion's customizations. The Dashboard enables your employees to manage all their team documents, communications, plans, and successes in streamlined workflows that make everyone more productive.
3) Creative Ecosystem
Notion has created an entire ecosystem that enables and supports a creative company culture. Whether your employees are looking for templates or inspiration for planning a company event, they can find exactly what they need from thousands of creative options available.
Notable companies that use Notion: 
Why we love this employee productivity tool: Notion simplifies so many daily tasks and is completely scalable as your business continues to grow. They make collaboration simple for all your on-premises or remote work needs.
Free Trial? Yes, sign up today!
---
People Also Ask These Questions About Employee Productivity Software Platforms
Q: How can I better gauge employee productivity at my organization?
A: You can better gauge employee productivity at your organization by using a productivity tracker such as a time management software, conducting frequent employee performance reviews, and implementing an employee monitoring solution.
Q: What are some useful employee productivity apps?
A: Some useful employee productivity apps are those that actually allow employees to do less work. When they're taking fewer steps to complete their tasks, it's like finding time each day.
Q: How is employee productivity measured?
A: Employee productivity can be measured by employee and peer reviews, time-tracking software, engagement surveys, and obviously, company profits.
A: To increase employee productivity, you can use a variety of employee monitoring software platforms to track elements like time management, project progress, website and app usage, and idle time. Analyzing these factors can help identify where your employees need more support in helping them maximize their time and efforts.