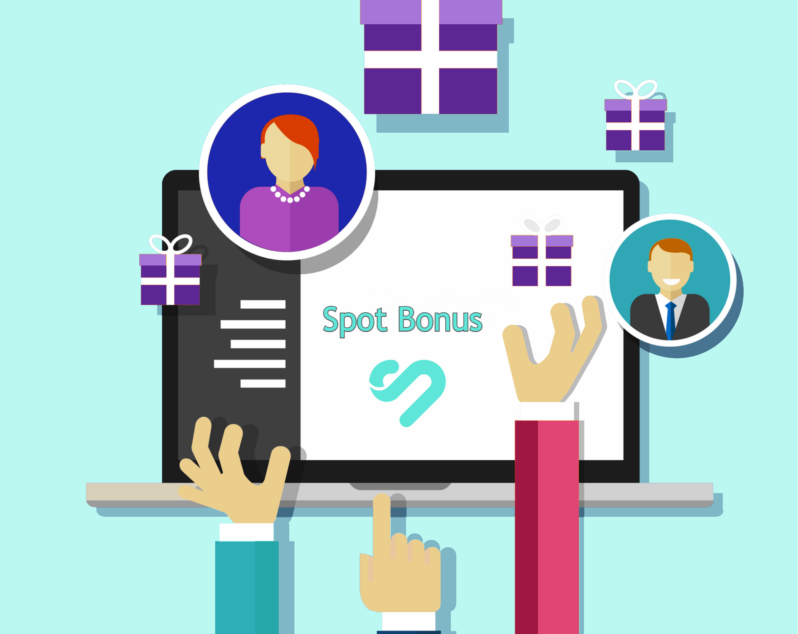 The competition for top-tier talent was already heating up. The modern-day workforce places as much pressure on employers as it does on employees when it comes to putting their best foot forward.
The pandemic further accelerated the shift towards a results-based economy where employees expect increased flexibility in return for a merit-based approach. In fact, according to FlexJobs, 84% of remote workers answered that not having to commute to work was their top perk of working from home.
However, there are other ways to improve employee retention, satisfaction, and recruiting efforts — namely, spot bonuses and spot awards. Not to mention, spot awards and employee bonuses really make an impact. According to a 2019 study,
"65% of employees in America prefer bonuses based on personal performance."
In this HR expert-approved blog, we'll show you how to give a spot bonus and what the best spot awards are for employees.
Read this step-by-step mini-guide to boost positivity, happiness, and wellness in the workplace!
---
What is a Spot Bonus?
A spot bonus is paid on the spot to employees or people within an organization for achieving a particular milestone, producing a certain result, or conducting themselves in a way that meets the target required to unlock the spot bonus.
Typically, a spot bonus is a smaller amount of money than an annual bonus because it is given based on merit or key performance indicators. Spot awards are similar to spot bonuses; however, spot awards tend to differ by being non-monetary.
---
How To Set Up A Spot Bonus Program

Step 1 – Establish spot bonus tiers.
You can give out rewards ranging anywhere from $50 to several thousand dollars. Tie the tiers into different milestones.
Pro-Tip: If you are looking to celebrate employee milestones, but don't know where to start — try out a employee milestone program where employees receive a customized gift or gift box the day of their work anniversary or birthday.
Step 2 – Determine your budget.
Due to the relatively spontaneous nature of on-the-spot bonuses compared to base pay, they can quickly become a large expense. That's why it's critical to set a limit and create a structure that ensures everyone is properly compensated for triggering their incentives.
Step 3 – Figure out what to incentivize.
Salaries are paid for doing the basics of the job. Spot bonuses are given for doing something exemplary; something that makes a difference.
Step 4 – Shake things up!
Don't simply give out spot bonuses at the same intervals. The idea is to generate an emotional response from employees or coworkers and the best way to do that is with the element of surprise.
Step 5 – Let your team know!
Make sure to publicize both the employee bonus program and the winners as well. Get the managers involved and send out emails announcing winners!
---
When To Use Spot Bonuses & Spot Awards

1) Sign-on Bonus
A spot bonus is rewarded when a new hire signs on with the company. Sign-on bonuses are a great way to make brand new employees feel welcome and to integrate them into the company. Additionally, these employee incentives set a great tone and help the new hire start off energized and ready to do their best work!
2) Retention Bonus
Employee retention is prized these days. Retention bonuses are designed to incentivize employee loyalty. Whenever team members stay within the organization for a certain period of time, give them a bonus. Retention bonuses are also known as "milestone bonuses" and can be used to reward birthdays, work anniversaries, and other big life events as well.
3) Holiday or Year-end Bonus
Holiday bonuses and year-end bonuses are usually one-in-the-same. However, if you take holiday bonuses in their most literal sense and are feeling generous, you can give out a bonus for holidays as a way of making the holidays a little more enjoyable for your employees. A year-end bonus is typically a large payment to celebrate all the great work and milestones met throughout the employee's work year.
4) Referral Bonus
A referral bonus incentivizes employees to actively recruit. This recruiting bonus is provided to employees who refer a candidate who is later hired by the company. In the battle for top-tier talent, referral bonuses are a must-have in your recruiting arsenal.
5) Spot Bonus
Easily the most spontaneous of the bonus types, spot bonuses are given on the spot for a variety of reasons, ranging from company-wide achievements to individual goals achieved. These are often also some of the smaller bonuses of the different kinds because of the frequency and spontaneity in which they are rewarded. A spot bonus or spot award can be as small as a gift card.
Pro-tip: Be sure to keep track of the tax implications when giving out bonuses just as you would with traditional forms of employee compensation.
---
Spot Bonus Programs & Platforms
"For recognition from all angles"

What is Bonusly? Bonusly is an employee recognition platform designed around peer-to-peer recognition and rewarding. Now, instead of only leadership being able to incentivize employees, coworkers can offer each other some serious encouragement in the form of monetary and non-monetary incentives.
How to use Bonusly for your spot program: While peers can shout each other out, managers can also reward direct reports, and employees can also celebrate their managers doing great work as well!
Notable features:
Team member analytics to identify best abilities
Social features for social recognition
Self-curated rewards
Automated work anniversary celebrations and birthdays
Monthly stipend features so recognition can go all-around
"For experiential on-the-spot bonuses"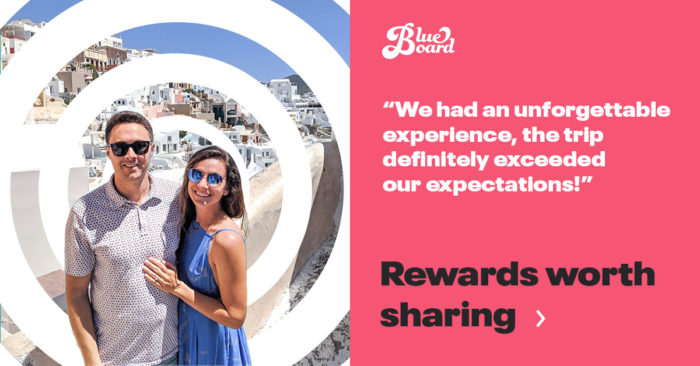 What is Blueboard? Blueboard is a one-size-fits-all yet totally customizable experiential recognition and rewards solution that helps companies incentivize employees. This personalized platform offers up both virtual and in-person experiences — all of which are totally unforgettable!
How to use Blueboard for your spot program: With their wide-ranging catalog of spot rewards and activities, Blueboard makes it easy to provide high-quality, unique experiences to blow the minds and win the hearts of your employees. Simply sign up and let the Blueboard Concierge team handle the details and the planning, so you can enjoy watching those smiles grow!
Notable features:
Story capture to increase engagement
Wellness incentives and work perks to make healthier employees
Bucket-list worthy options
A client success team completely devoted to developing recognition programs
"For keeping the hive together"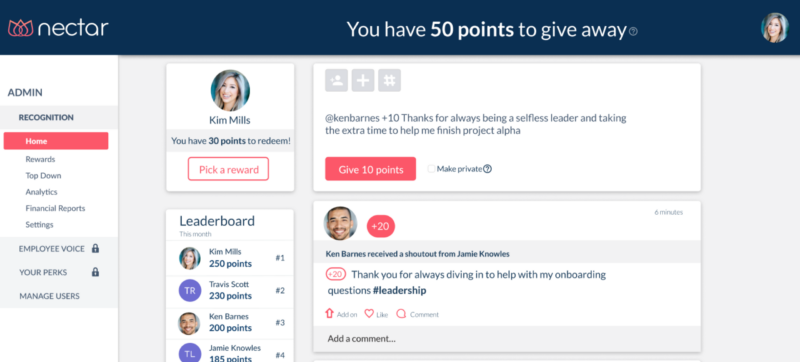 What is Nectar? Nectar is a multilateral recognition and rewards platform to help every member of an organization celebrate each others' successes. This culture-building platform rewards team members and managers for their effort and their results.
How to use Nectar for your spot program: Whether it's peer-to-peer or manager to coworker, these incentives reinforce positive corporate culture. Sign up and let your teams become the tight-knit unit you've dreamed of organically!
Notable features:
Dozens of integrations, including Slack, Microsoft Teams, and other engagement software
Employee health and wellness programs
Custom swag storefronts with on-demand dropshipping
"For celebrating the big, the small, and all the wins in between"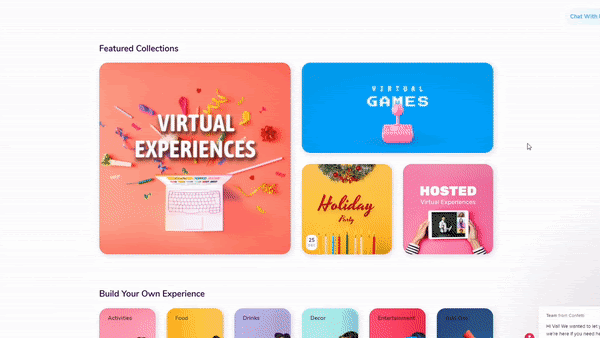 What is Confetti? Confetti is the all-in-one employee recognition and activity platform. This fun-driven employee engagement solution is perfect for spot bonuses and spot awards because it curates ideal vendors to give the best experiences possible.
How to use Confetti for your spot program: Confetti is free to sign up and the sign-up itself only takes roughly 20 seconds. After you get into the system, start customizing your activities instantly! Every event outlines host info, details, and invitations.
Notable features:
Hosted games and shippable experiences
Culture budget management
14 experience categories
"For assembling your super team"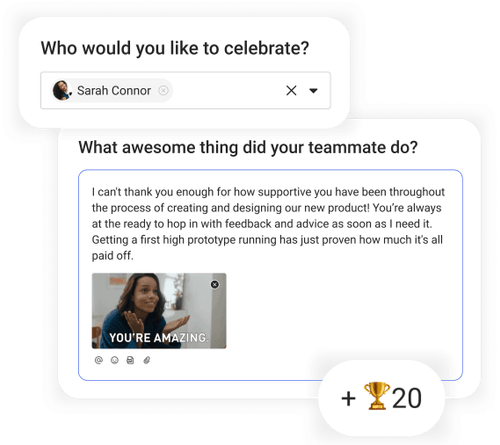 What is Assembly? Based on pay-for-usage, Assembly is a 360-degree peer-to-peer rewards and recognition platform designed to help everyone get the encouragement they need. Now, nobody has to fall through the cracks and the whole crew can be seen! Plus, Assembly eases the load off of human resources.
How to use Assembly for your spot program: Simply sign up and let the recognition begin. The sleek color-coded interfaces help lead your team through the process naturally.
Notable features:
Skill and merit-based badge options
Core values sidebar to keep the team aligned
Inclusive work anniversary and birthday feeds
"For keeping employees fond of each other"

What is Fond? Fond is a social-oriented employee recognition for in-person and distributed teams. With a gargantuan rewards catalog, special discounts, and an easily accessible social feed, Fond is perfectly designed to help company cultures scale.
How to use Fond for your spot program: Get started with Fond to develop a supportive, gratitude-filled culture where your employees feel appreciated to the core.
Notable features:
Deep behavioral analytics and budgetary data for managers and employees
Language translations, cost of living adjustments, and a nation-wide rewards catalog to support in-person and remote employees
Custom recognition and communication channels
---
People Also Ask These Questions About Spot Bonuses
Q: What are the benefits of using a spot bonus?
A: The benefits of using a spot bonus include boosting employee morale, promoting positivity in the workplace, boosting productivity, motivating employees, and improving employee performance.
Q: How much should you reward an employee with a spot bonus?
A: There isn't necessarily one precise amount of money you should reward an employee with a spot bonus. Some of the main factors to think about are your total budget, the frequency you want to give out spot bonuses, and what you're hoping to achieve with them. As far as amounts, a typical spot bonus might range anywhere from $50 to a few thousand, depending on what it's for.
Q: How do I know if my spot bonus program is working?
A: You will know if your spot bonus program is working because you will see genuine excitement from your employees or coworkers, increased positivity in the workplace, better productivity, and massively improved motivation. If you reward employees, the result is usually a reciprocal effort.
Q: Are there digital ways to send a spot bonus to remote employees?
A: Yes, there are digital ways to send a spot bonus to remote employees through employee recognition platforms and software.