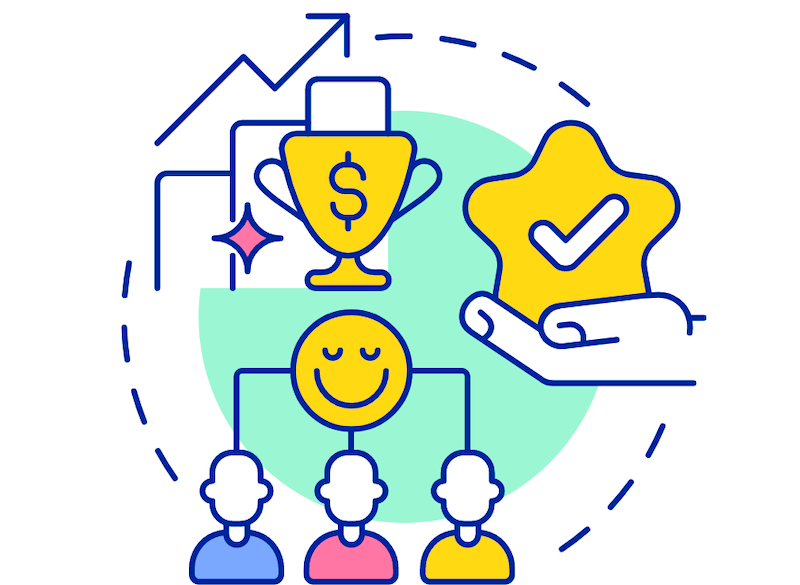 The term 'employee bonus' used to be equivalent with an end of the year raise or holiday bonus, but effective employee bonus programs are more robust than ever before!
In the current job market, it can be challenging attracting and retaining top talent in your industry. Enter: Employee bonus programs. If you're looking for ways to create a happy workplace and a culture of recognition, employee bonus programs help do that and so much more.
"People work for money but go the extra mile for recognition, praise and rewards." – Dale Carnegie
Click To Tweet
Yes, it's important to pay your employees a competitive base salary, but a paycheck only goes so far in motivating your employees to be passionate and enthusiastic about their jobs.
Employee bonus programs help bolster employee motivation levels to go above and beyond in their roles and achieve the specific goals placed before them. They help with employee engagement & retention levels and also are great ways to recognize and reward your employees.
Let's dive a bit deeper into what exactly an employee bonus program is and how you can get started today!
Want to improve your employee appreciation program this year?
Yes!
What is an employee bonus program?
An employee bonus plan includes any compensation, both monetary and non-monetary, that employees receive in addition to their base salary.
Employee bonus plans are typically tied to achieving individual and/or team goals set forth annually or quarterly.
In addition to bonus programs being an effective way to improve employee satisfaction, they also provide critical channels for employee recognition and rewards which in turn increases employee retention,  performance, and overall well-being.
What are the benefits of creating an employee bonus plan?
Benefits to Employees
🔷 Rewards & Recognition
Through rewards & recognition, strong employee bonus plans ensure that your employees feel seen and valued.
🔷 Sense of Ownership & Belonging
Providing employees with a robust bonus plan in addition to their base salary instills in your employees a sense of ownership and helps employees see how they fit into the overall success of the business.
🔷 Collaboration & Teamwork
Bonus plans that take into account both individual and team performance metrics encourage collaboration and teamwork amongst your employees.
Benefits to the Organization
🔶 Retention & Recruitment
Helps not only to retain star performers at your company, but also attract top talent in the industry.
🔶 Improves Employee Performance
By providing desirable incentives and bonuses, your employees are motivated to go the extra mile, resulting in stronger individual & team performance levels.
🔶 Achieve Overall Business Goals
If you effectively align your employee bonus program with your overall company goals for the year, you're setting both your employees and your business up for success.
Tips To Start An Effective Employee Bonus Program
1. Create a structured policy
"The clearer the policy, the greater the adoption."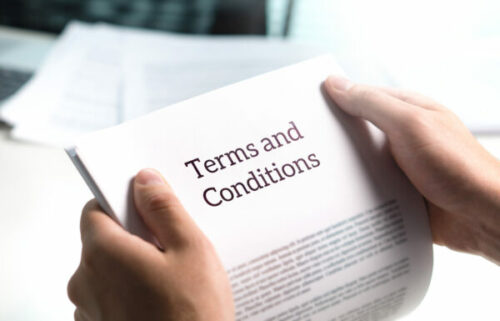 While policy may not feel like the most fun place to start, it's a critical step in building out an effective employee bonus program. If your team doesn't fully understand your bonus program policies, this will only lead to swirl and confusion rather than employees embracing the program you've worked so hard to create.
Before launching an employee bonus plan, provide clear, structured, and detailed policy documentation that is kept up to date and easy for your employees to access.
Tip! Work closely with your Human Resources team and leverage existing HR tools to ensure your policy is fair and competitive in the marketplace.
2. Incorporate it into your company culture
"Let your company culture shine through!"
Your employee bonus program should be created to mirror your company culture pillars. If your program doesn't align with the overall company culture or feels out of sync, your employees will feel that. For example, if rewards and recognition are a staple of your company culture, these should be important areas of focus when building out your employee bonus plan & strategies.
Tip! Explore different employee recognition software in the market to encourage daily recognition as part of your company culture!
Check out a few top-rated recognition tools to help you set up a winning employee bonus plan…
3. Make it your own
"There's no one size fits all here– craft what works for you!"
While we do see commonalities amongst employee bonus programs in the market, it's important to make it your own as well. Whether you're a smaller business just beginning to explore employee bonuses or you're a large corporation looking to revamp your policy, take a step back and evaluate what works best for your unique company & employees.
Tip! If you want to recognize employees at a set frequency, try implementing an employee of the month program with qualifiers and rewards based on relevant parameters & priorities set forth each month.
4. Be specific whenever possible
"Specificity is your friend– embrace it."
This ties back into your employee bonus program policy documentation, but also applies broadly across your employee bonus program in its entirety. You want to be as specific as possible in any and all communications regarding your bonus program & initiatives. The more specific you are, the less likely your employees will encounter confusion or lack of clarity.
Tip! Keep things simple. You want to be brief and concise in your policies & communications, but you also want to ensure information is clear & detailed enough to avoid confusion or debate. You can keep your bonus plan policy and information in a team-wide collaboration platform like monday.com to make access to it easy and transparent.
5. Know your budget
"Know your budget, don't blow it."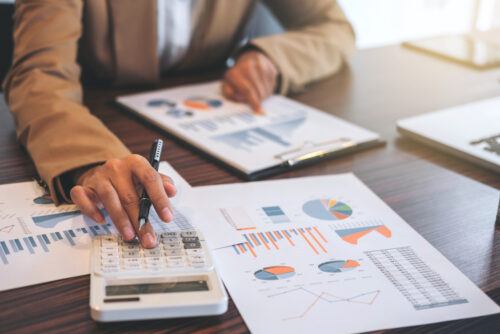 Prior to implementing any employee bonus plan, it's crucial to identify what your feasible budget is for that fiscal year or quarter. Once you have this budget set, you can then back into it and select the corresponding mix of employee bonus program offerings that align best.
Without a budget, it's very easy to end up in a scenario where you're spending more money than your revenue allows which obviously has a negative effect on your bottom line.
Tip! Depending on your company size, budgets will inevitably vary. Work closely with your finance team and leadership to determine what budget range fits best for your business.
6. Tie bonuses to goals
"You get a bonus! And you get a bonus! …If you meet your goals."
Bonuses should be connected to achieving key individual and/or team goals that are clearly communicated and measurable. This ensures employees are incentivized to achieve their business goals and know what is expected of them in order to earn a bonus. You don't have to limit bonuses only to annual goals.
Depending on your budget, try implementing short-term sprint goals or monthly opportunities to earn additional bonus perks.
Tip! There are some awesome employee rewards & recognition programs that tie in rewards with specific achievements or milestones. Shop around and find a platform that works for you!
7. Communicate with employees
"Communication is key."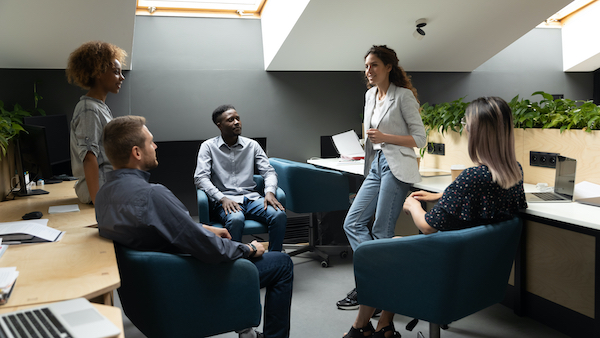 Even ahead of officially launching an employee bonus program, you should start generating excitement by publicizing your efforts via company communications like email updates, newsletters, or town halls.  Communicating ahead of launch helps with employee awareness and adoption of the new program.
Once your program launches, it's important to keep the channels of communication open so employees know the most up to date information and can also share their feedback.
Tip! Like anything new, there may be some growing pains as you launch an employee bonus program. Don't let this deter you. Continue to clearly communicate with your team to work out any initial kinks.
8. Do not play favorites
"There's no room for favorites in the workplace."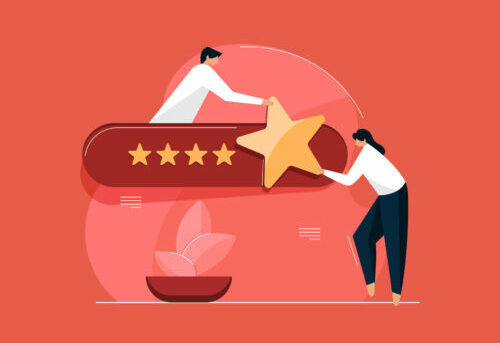 One of the best parts of structured employee bonus programs is that they are fair and transparent. Your employees fully understand the bonus structure and what it takes to earn them. It's important to not play favorites when it comes to rewarding or recognizing your employees.
Tip! Is community outreach a key component of your company culture? Try implementing a non-monetary bonus perk like a company-wide paid volunteer day.
9. Celebrate wins
"Celebrate when your team is winning!"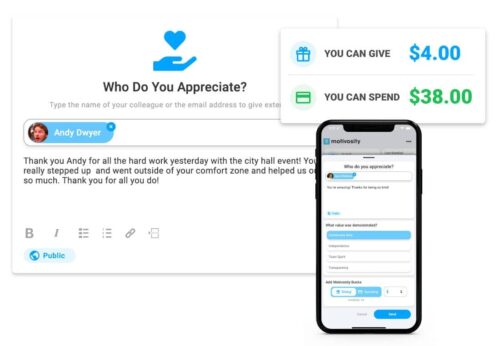 Whether a big win or a small win, celebrating both individual and team successes are great morale boosters that keep your employees motivated and striving towards their next win. Celebrating your employees' hard work and their wins also demonstrates how valuable and appreciated your employees are to the company & its' overall success.
Tip! If you host periodic town halls, consider adding an employee award section where folks are nominated by their colleagues for specific categories of achievement. This ensures no one is overlooked and that unsung heroes have their time to shine. We talked to the award experts at Motivosity who offered some fun ideas to try out:

Snack Attacker – person who always has the best snacks
Best Pet Cameo – pet that always shows up on Zoom
Tiesto Award – The resident DJ who is always playing the hottest tunes
10. Continue to improve on your program as you learn more
"Don't be afraid to evolve and improve as you go!"
Successfully launching an employee bonus program does not end on launch day. Instead, you want to leave room for improvement as you learn more about how your employees respond and the effects of the program on your overall business. You want to ensure your employee bonus program is competitive in the marketplace & continues to attract and retain top talent in the industry.
Tip! Consider adding a field in company-wide employee surveys centered around how satisfied they are with the current employee bonus program & if they have any suggestions for improvement.
Employee Bonus Program Tools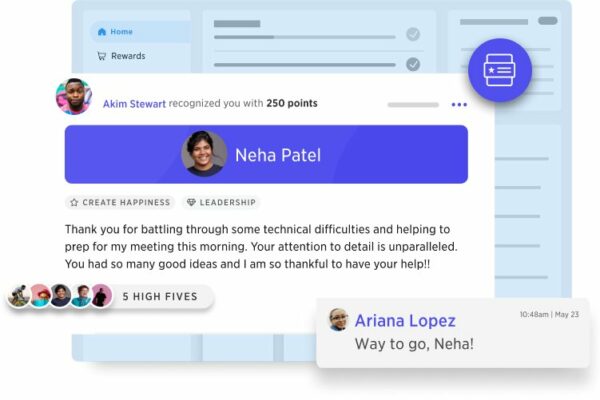 WorkTango is a robust employee engagement software offering that makes employee recognition a breeze!
The platform has three main focuses: employee recognition & rewards, employee surveys & insights, and goals & feedback. Their tri-fold approach allows employees and leadership alike to track performance metrics, goals, and rewards all in one user-friendly location.
⭐️  Why we love this employee bonus software program: We love that WorkTango keeps the employee experience at the heart of their offerings. When building or improving your employee bonus program, conduct periodic surveys to see what types of bonuses resonate most with your team.
👉 Learn more about WorkTango!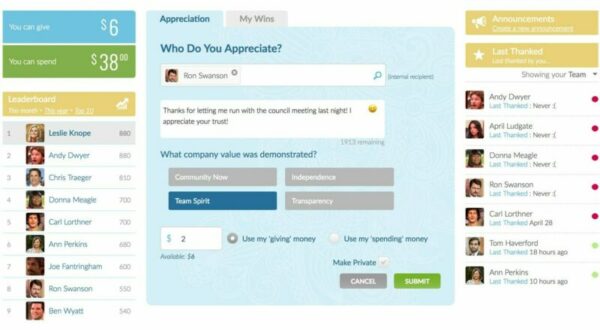 Shopping around for how to motivate your employees? Motivosity may be just the thing you need to give your team the extra boost they need.
In this platform, users can give and receive employee shout outs with redeemable reward points attached to recognize achievements and milestone moments.
⭐️  Why we love this employee bonus software program: We love that Motivosity's platform mirrors a social media-like user view where employees can react and interact with recognition posts in real time. It's a great way to provide your employees with incentives in a collaborative way.
👉 Get started with Motivosity today!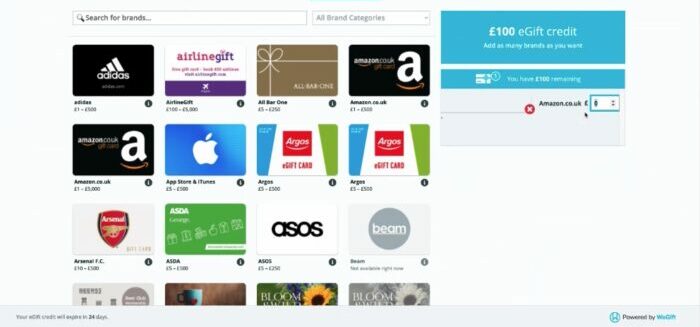 WeGift is an awesome way to engage with remote or hybrid employees. When it comes to employee appreciation gifts and bonuses, it can be hard to find the right options.
WeGift not only offers employee gift cards in bulk, but also offers digital prepaid Visa cards as well. Leadership also has viewability into redemption reporting so they can see what type of gifts are resonating most with their employees.
⭐️  Why we love this employee bonus software program: We love that WeGift can be used for companies with a global footprint. They support digital gift card options in over 30 countries and 18 currencies.
👉 Check out more about WeGift!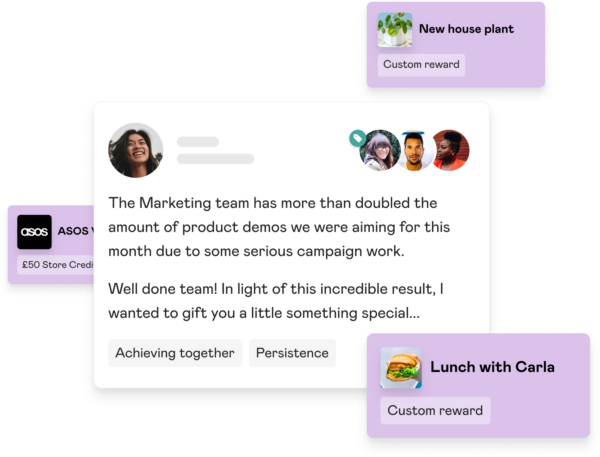 Mo Rewards is an awesome collaboration tool that encourages team members to celebrate one another and their wins. Mo is short for Moments and within the Mo Rewards platform, users can share a Moment to celebrate a team win, or shout out a particular individual who went above and beyond to make things happen.
Mo Rewards also has a Nomination functionality in which employees nominate star colleagues who bring company values to life.
⭐️  Why we love this employee bonus software program: To encourage employee adoption and utilization of the platform, Mo Rewards Boosts periodically prompt users to share Moments.
👉 Explore more about Mo Rewards!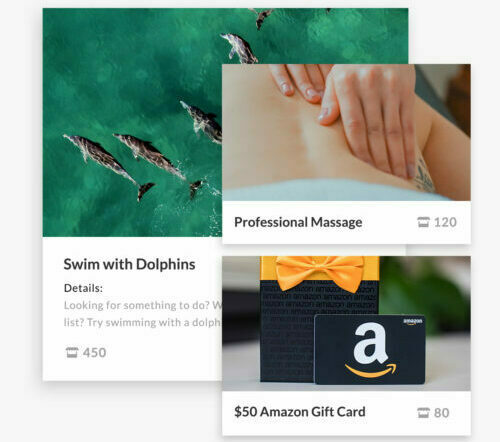 What better way to reward employees than providing them with a platform that focuses on employee wellbeing and recognition?
Bucketlist does just that and so much more. If you're looking to automate your bonuses based on anniversaries or milestones, you can easily do so with Buckelist.
⭐️  Why we love this employee bonus software program: Thinking of implementing a years of service award or bonus? Try using Bucketlist's automated anniversary recognition functionality to support it.
👉 Check out Bucketlist for more info!
Types Of Employee Bonus Programs
1. Team Bonuses
Team bonuses, as the name implies, are rewarded based on the team achieving a collective goal. You do want to be cautious about how these team bonuses are structured so that all team members are equally incentivized to do their part & actively contribute. When communicating out the parameters of the team bonus, be sure to clearly communicate the team objective and each member's role in reaching it.
🌟 How this bonus helps employees: This type of bonus encourages teamwork amongst colleagues and motivates the team to win together.
2. Individual Bonuses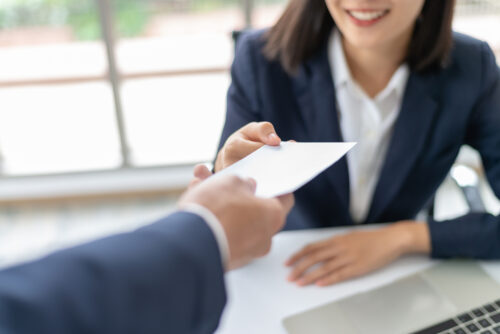 Similar to team bonuses, individual bonuses are awarded based on achieving set goals or objectives, but doesn't depend on the performance of others. Most commonly awarded on an annual basis, individual bonuses are dependent on an employee's performance results from that year and are typically tied to a revenue or tactical goal. It's important to be clear and detailed when sharing out the bonus structure and requirements.
🌟 How this bonus helps employees: Individual bonuses help motivate your employees to achieve goals set forth that directly impact the health of your company.
3. Employee Recognition Points Programs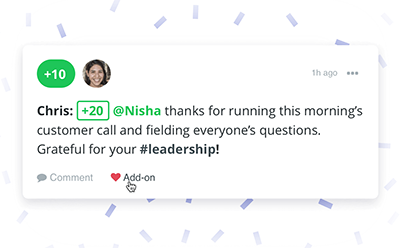 With so many types of employee reward systems in the market, it can be challenging finding the right one for your business. One of the most common reward systems are employee recognition points programs. In these programs, employees can give and receive recognition points that can be redeemed for rewards, including bonuses, digital gift cards, experiences, and more!
🌟 How this bonus helps employees: This type of bonus helps employees feel valued and appreciated by their management team and peers alike.
Pro-Tip: If you like using digital tools, we recommend exploring the following employee points platforms for your team:

Mo Work – An easy-to-use peer recognition and rewards platform to keep teams connected.
Nectar – Send and receive recognition straight from Slack or Teams. No need to login to yet another software.
Bonusly – Create real meaning for every employee and every celebration with personalized employee rewards that wow.

P.S. Each of these tools offer a free trial which will allow you to test out each type of points program 🥇
4. Spot Bonuses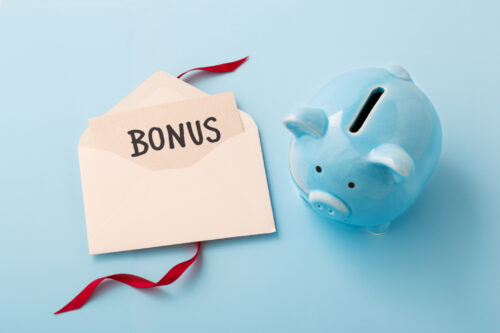 As the name implies, spot bonuses are spontaneous bonuses given on the spot to reward stellar contributions or achievements. Consider it an easy and quick way to say "thank you" to your employees without having to wait for an annual bonus. While spot bonuses are given on the fly, you should have a set budget for these types of bonuses.
🌟 How this bonus helps employees: This type of bonus helps to surprise & delight your employees. Spot bonuses don't have to be a large lump sum– a little can go a long way here.
5. Referral Bonuses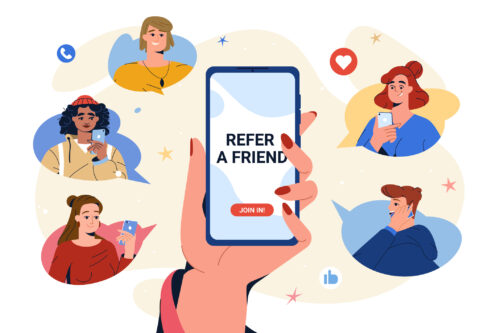 Referral bonuses are bonuses provided to employees who refer job candidates that are hired and complete a set probationary period at the company.  Like any other bonus type, you want to plainly lay out your policy.
For example, will the bonus amount vary based on the role? Will your probationary period be 6 months or 1 year and when will your employee receive their bonus? Be sure you think through the details of your policy before officially launching a referral bonus program.
🌟 How this bonus helps employees: Referral bonuses help boost your current employee satisfaction and engagement by providing them with an opportunity to help shape staffing and company culture.
6. End of Year Bonuses
Many companies offer end of the year bonuses which are given to employees at the close of the fiscal year to recognize their achievements. These bonuses are typically given on an individual basis, but can be given to award team performance as well. The amount of the bonus usually varies by role and performance.
🌟 How this bonus helps employees: This type of bonus helps employees feel recognized for their efforts and achievements from that year and provides strong momentum heading into the next fiscal year.
7. Holiday Bonuses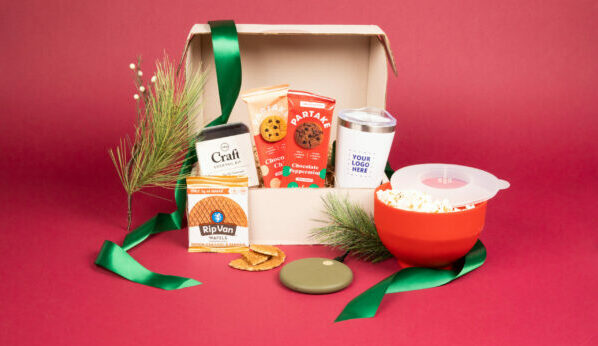 Chances are you've seen this type of bonus depicted in film and television where the CEO is handing out envelopes at the annual holiday party. While this may be an old school way of distributing a Holiday bonus, the same concept applies.
Holiday bonuses are bonuses given to employees during the holiday season as an added monetary perk to celebrate the close of the business year. The amount is typically tied to the overall business performance that year and can vary based on the employee role.
🌟 How this bonus helps employees: Holiday bonuses help boost team morale and end the year on a high note.
Tip! The holiday gifting wizards at Caroo curate one-of-a-kind holiday care packages that are great for employees, clients, and customers.

Take this 60-second quiz to get started building the ultimate holiday gift box!
8. Retention Bonuses
Retention bonuses are one-time payout given to employees as an incentive to remain at the company, usually during a time of adjustment or change such as a company merger or acquisition. Retention bonuses can also be offered to employees who are suspected to be looking elsewhere for employment, but are critical performers on the team that you can't afford to lose.
Before providing a retention bonus, you should conduct a cost-benefit analysis to ensure it's the right move for both the employee and your business.
🌟 How this bonus helps employees: Retention bonuses show employees that you're willing to put your money where your mouth is when it comes to retaining highly talented individuals.
9. Project-based Bonuses
Project-based bonuses are awarded based on the successful completion of key projects or business initiatives. This type of bonus is an effective way to motivate either an individual or a team to complete a critical business project in a set period of time and on-budget.
🌟 How this bonus helps employees: This type of bonus shows your employees just how important the projects they're working on are to the larger business.
10. Non-Monetary Rewards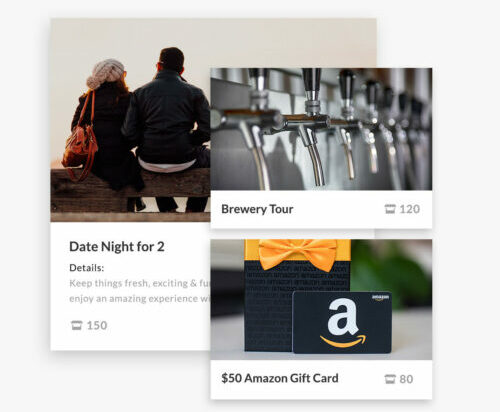 Some of the best employee perks are non-monetary incentives or rewards. Non-monetary rewards are non-cash perks or benefits provided to an employee. Some examples include extra time off, flexible working hours including remote work opportunities, and experiential rewards such as trips or events.
🌟 How this bonus helps employees: These types of rewards can be quite meaningful and impactful to your employees and their overall satisfaction levels. They can also help with work-life balance as well!
---
People Also Ask These Questions About Employee Bonus Programs
Q: What should you include in an employee bonus program?
A: You should include a variety of bonus types in your employee bonus program. These include team or individual bonuses, referral bonuses, spot bonuses, and employee recognition point programs, to name a few.
Q: Do employee bonus programs work?
A: The short answer is yes! Recent stats show that well-structured bonus programs can increase employee performance by as much as 44%.
Q: How do I create an effective employee bonus program?
A: To create an effective employee bonus program, you should create a structured policy inspired by your overall company culture and business goals. Be sure to be specific, set a budget, and communicate with your employees along the way.